Ryobi BS904G 9″ Band Saw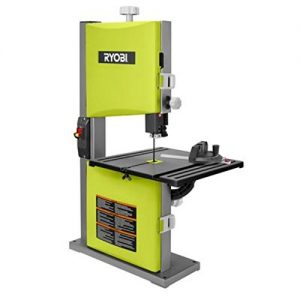 The Ryobi Ryobi BS904G 9″ 2.5-amp Band Saw is designed for a variety of woodworking applications.
The Ryobi BS904G bandsaw has a powerful 2.5 Amp induction motor. It features a blade tracking window and rack and pinion blade support adjustment system.
It is equipped with a sliding miter gauge, a built-in dust collection port, a RapidSet blade tensioning system, rack and pinion blade guide adjustment, micro adjustment blade tension knob and precision aluminum interior blade wheels to minimize vibration.
The table tilts from 0 to 45 degrees and it has all aluminum wheels and ball bearing supports.
All in all, the Ryobi BS904G is a top performing bandsaw.