WEN 3920 16-inch Variable Speed Scroll Saw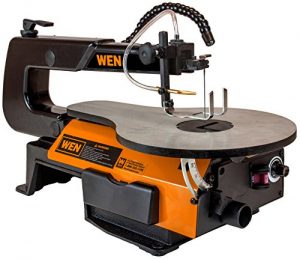 The WEN 3920 Saw gives you full control over your designs and creativity. The variable speed ranges of the WEN 3920 1.2 Amp 16-inch Variable Speed Scroll Saw give you anywhere from 400 to 1600 strokes per minute and can be easily adjusted by the speed knob located on the front of the machine.
The spacious 16-by-10-inch table bevels up to 45 degrees to the left.
You can easily cut in woods up to 1.9 inches thick while the 16-inch throat depth allows for the manipulation of larger work pieces.
The WEN Scroll Saw also has a 9/16 inch stroke with the allowance of both pinned and pinless blades. The sturdy cast iron build limits vibration for precision and convenience and has bolt holes for attachment to any tabletop or work surface. The tension-release switch is easily accessible right at the top of the machine. The air pump clears saw dust from your work area as you saw to give you precise cuts with a clear line of vision.
This combined with the 1.5 inch dust port keeps your work area clean so you can focus on your cuts. The Wen 3920 saw also includes a clamp for securing your project in place along with a flexible work light that bends and adjusts to whatever position your heart desires. Also included is a 2-year warranty.
Fast delivery is available on the WEN 3920 saw too.